A MSME company with a well performing product approached us for a new design of a water meter. Four different variants of the product were being sold in the market.  The current design had great potential for improvement and transformation.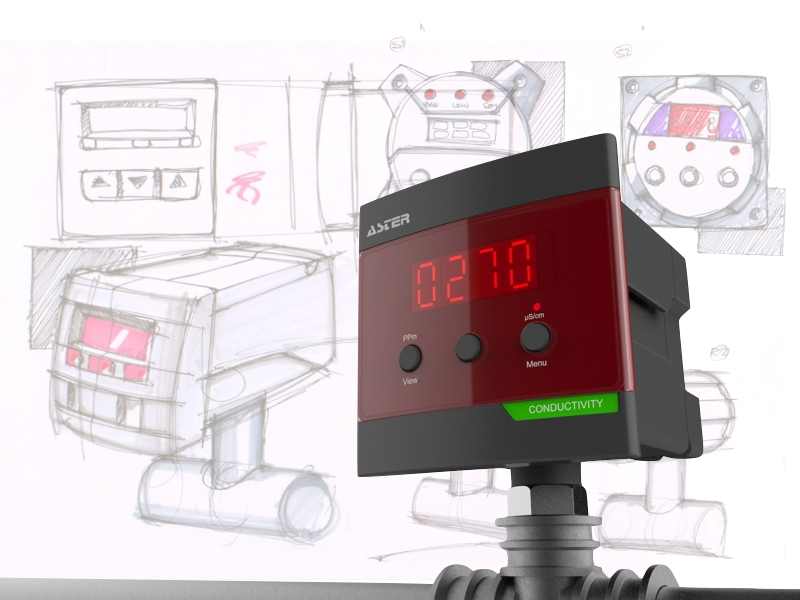 Our focus areas for design improvement were weather protection, better integration in the product environment system and lastly simple clean product to prevent dirt and water accumulation during usage
---
Can the product be mounted on the panel as well?
How do we better integrate the product to make it less obtrusive?
Can we provided users flexibility in orientation deepening on their application a use?
Should the product look like a industrial product or a new age contemporary electronic device?
Users are lazy, they try to read the digits from a distance to avoid walking up to the product on a shop-floor. What size of digits would be better visible from a distance?
Can we engage the user in a new way?
How do we seal the connectors yet allow access?
---
Design Impact
New product design addressed all the above issues and insights.
Now we feel that we should be manufacturing products that are well designed all the time
Our product is being appreciated specially for exports. Prospective buyers feel that the product is well designed and would be efficient. Perceived quality of the product has improved.
We have a significant increase in our orders and we are able to meet our orders faster due to simpler assemblies
Design of the product has lead to standardisation that helps production
Our team and workers are proud of what they are manufacturing.