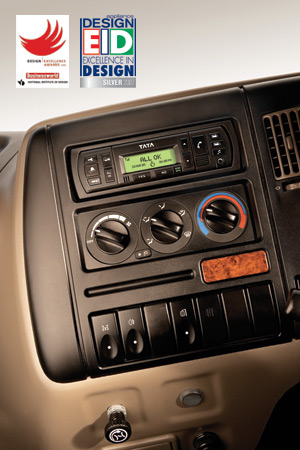 "A harmonious melding of technology and industrial design" Appliance Design
Ticket Design has been awarded a Silver at the 20th International Appliance Design Excellence in Design Award 2007 USA. Advanced Telematics – A vehicle tracking device designed by the company was declared a silver winner amongst worldwide entries received in the electronics category beating international competition such as Fujitsu Lifebook A6010 Notebook Computer and Globalstar GSP 1700 Satellite Phone for this position.
"The purpose of Appliance Design's annual design competition is to honor those designers who have excelled in meeting the modern challenge of harmoniously melding technology and industrial design," said Richard Babyak, editor in a email to the Founder, Ticket Design, Balkrishna Mahajan and his team. This is the first time an Indian Company has won this award.
The Advanced Telematics product was designed by Ticket Design (ID) while electronics design and manufacturing was done by Tata Motors ltd. This device is an advanced vehicle tracking system launched by Tata Motors in their Novus Heavy duty trucks.
An independent panel of three industrial design experts performed judging of the entries. Evaluation of the entries was based on four criteria: appearance, human factors, innovation and technical merits.
It is noteworthy that, last year Silver Award was won by Sony Ericsson for its W600 Walkman Cell Phone. Other winners in the competition include iPod Alarm Clock, Kitchen Aid, Bosch, Maytag, and Sharp for their respective products.
The judges noted that winners demonstrated that they are serious about industrial design and showed their seriousness
by attention to detail and an innovative approach that sharply differentiated its product from competitors.
A common element found among the winning products was the ability to make technology more accessible to the user
The telematics product has already been awarded the Business World - National Institute of Design (NID) Excellence in Design Award 2006.
Read more about the product here
Read about the Businessworld NID award news here
Signup for
OUR NEWSLETTER
Great news, we've signed you up. Sorry, we weren't able to sign you up. Please check your details, and try again.