Ticket Design wins the prestigious Business World NID Award 2006 for Design Excellence.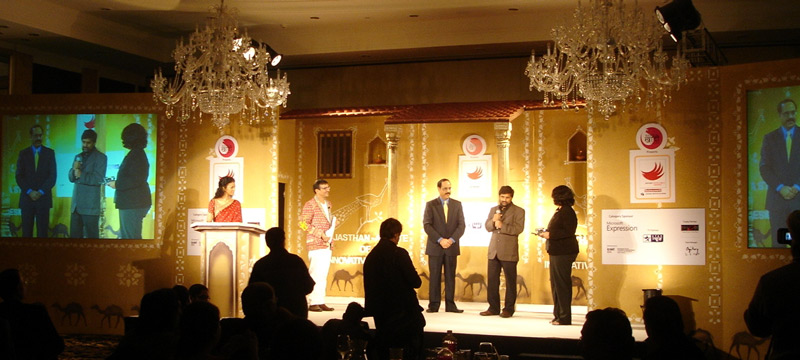 Above: Balkrishna Mahajan and Nishma Pandit of Ticket Design receiving the award for best industrial design from Shri N N Prasad, Joint Secretary, DIPP (Department of Industrial Policy and Promotion, Government of India. Also seen in the picture are the hosts for the evening, Nayanika Chatterjee and Mr Prasad Bidappa. (Photo credits; Praveen Nahar)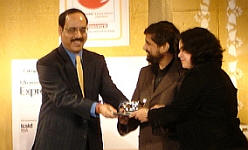 "A solution based on basic tasks... delivering goods effectively and improving the driver 's comfort and safety" Jury's comment
The award was conferred upon Ticket Design at a function in New Delhi on Saturday 20th Jan 2007 attended by dignitaries in the Indian Design industry.
The advance telematics product designed by Ticket Design for Tata Motors has received this recognition for its user centered industrial design, simple icon based interfaces and user friendly approach for Indian truck drivers.

The product
This device is an advanced vehicle tracking system launched by Tata Motors in their Novus Heavy duty trucks. Using this system a truck owner can track his trucks anywhere in India on a map from any internet connected computer. It uses the global positioning satellite and the mobile phone network to achieve this.
The design is remarkably different from any other GPS based products available in the world market today and is completely focused on the needs of the Indian drivers and fleet owners. This product is an example of how design needs to cater to the needs of the market it serves.
The product is designed for an Indian user who speaks different languages does not read and write and leads a tough life of being on the road driving day and night. The design solution serves this user faithfully.
User centered Design
The product uses icon based controls for an intuitive user interface. This is what makes the product superior. There is no other product in the market that communicates as well with the user as well as the fleet owner.
Using the product the drivers can access lifesaving medical help incase of accidents, inform about traffic jams, speak to the base station, listen to music, be accessible to his family all through this device
Team speak
The Ticket team is quite excited about its first such venture for India, winning the coveted award and are gung ho about the future of industrial design and its role in the burgeoning Indian creative economy.
As per Balkrishna Mahajan, Founder and Industrial Design Specialist, "This award is a due recognition to our efforts in seeking meaningful design insights and delivering user centered design solutions that compete at the highest international level"
"We feel that great design makes products attractive to customers and rewarding to use. It is design that can give a product its competitive edge and added value in a highly competitive marketplace. We as Ticket Design are uniquely positioned to do that" adds Nishma Pandit, Founder and ID Specialist.
The electronics for the product has been designed by Tata Motors (Electronics Division) and System/ Web Integration by Tata Technologies.
For more details about the awards please visit www.businessworld.in or www.nid.edu
For more exciting details about the product Click here
Signup for
OUR NEWSLETTER
Great news, we've signed you up. Sorry, we weren't able to sign you up. Please check your details, and try again.